We are sharing 50+ Easter Basket Stuffers for kids! Easter Basket gifts are fun and help your family celebrate the season, no matter what the gift may be.  Easter Basket Fillers are just a fun way to celebrate the holiday & enjoy the season.
These kids' Easter gifts are great for kids of all ages, with Easter Basket ideas for toddlers (such a fun age!) up through the teenage years (trust me… teens still love to get Easter Baskets!)
Lent is almost over and Easter Sunday is just around the bend so it's a great time to get creative and think of some Easter gift ideas!
I have made a list of MORE THAN 50 Easter Basket Stuffers that your kids will love.  I'm sure you can find a few favorites on the list (or at least I hope so!)

Our kids look forward to finding their Easter baskets every year.  These Easter Basket Fillers are fun and most are easy to find online or in the store.
Good Ideas for places to hide the Easter Basket:
Our Easter Bunny hides the baskets:
in the microwave
behind a chair
under a bed
under our Mud-Room Bench.
Behind a curtain
On the porch
Behind a couch pillow
In the coat closet
in the oven
in a kitchen cabinet
in our blanket basket
The kids have a blast looking for their baskets, just as my brother and I did when we were little! We have four children and Easter is so much fun for them!
What do we give the kids for Easter?
The Easter Bunny usually gives them one bigger Easter present and then fills their basket (or whatever you use as a basket) with other fun things (gifts, stuffed animals, etc…)   I especially love it when the kids get personalized Easter gifts.
When I was little, I loved searching for my basket.  I also loved it when my "basket" wasn't really a "basket". 🙂   A lot of kids love to have a bunny basket (in the shape of a bunny) when they were younger.  I also love this little Tool-Tote Toy Caddy like this.

INSIDE of the basket is where the fun happens!   Our Easter Bunny doesn't put the eggs in the basket, he fills their baskets with fun surprises and hides the eggs around the house and in the back yard.   They search for those after they have eaten breakfast.    (This blog participates in various affiliate programs from affiliate marketing programs & we've included their products today to make them easy to find by having links to retailer sites.)  While these aren't just editorially chosen gift ideas or editorially chosen products purchased for today's list, they are still some of my favorites. 😉
Here are a few ideas for things for the Easter Basket
A lot of these ideas for kids' gifts are products purchased online (some with free shipping), so you can just pass along your favorites to the Easter Bunny.  Some of these can be stuffed into eggs for an Easter Egg Hunt, too! 
Easter Basket Stuffers for Kids
Printable Cards for 40 days of one-on-one time with YOU!
Here's an example of a few… (they are the perfect way to bond with your kids!)

Leg Warmers (get them free with Promo Code YMF5.) 
Sunglasses    – You can get this giant 12 pack for cheap and just have kept the extras on hand!
Gift cards (A $5 gift card to get ice cream with you is a great gift!)
A Flip Flop fashion kit to make your own flip flops- (includes two)  – this is SO fun!
Gum that looks like Easter eggs- our kids love gum so much more than candy!
Plastic tools (hammer, screwdrivers)
Little People (we love this Princess set  and this SuperHero set)
This is a great Easter gift idea for a toddler!   

GIANT lollipops!  (the kind that they used in Willy Wonka's chocolate factory)
Gloves (12 pairs for $15 – love this for as often as we lose gloves!)
Books
FlashCards
God Gave Us Easter (personalized book)
Resurrection Eggs – I love these!
Mini baby dolls (small enough to fit in a basket!) 
Matchbox cars  or any little cars
Socks – fun Easter Bunny sock slippers are always a hit!
Awesome Chalk-Marker liquid pens!  
Nail polish – love this set!
New water bottle  (this one is awesome & holds up over time.)
Fun Board Games (this is our FAVORITE board game.  The kids think it's hilarious)
Magazine Subscription (HighLights, Hearst digital media's Food Network Magazine (part of Hearst digital)
Adorable flavored Lip Glosses
Ingredients for Playdough and a note stating that 'these are the things that you need to make playdough with your family."
A Sketch Pad
Wipe clean Learning Book
Movie tickets for the family
Budsies Custom Stuffed Animals – These are SO CUTE. Turn your kids' art or selfies into stuffed animals
Fresh flowers (or even make paper flowers like the pom pom type of flowers from paper… so cute!)
Rain boots
Eric Carle Magnatiles – a combination of two of our favorites: Magnatiles are amazing toys that allow for so much creativity, and Eric Carle, one of our favorite authors!
Bracelet Making Kit – such a fun Easter craft to do together!
Here are other Easter ideas…
Homemade (and last minute) Easter Basket Fillers
Easter Bunny Bottles


DIY Minion Easter Eggs

Grab Our One-on-One Time Calendar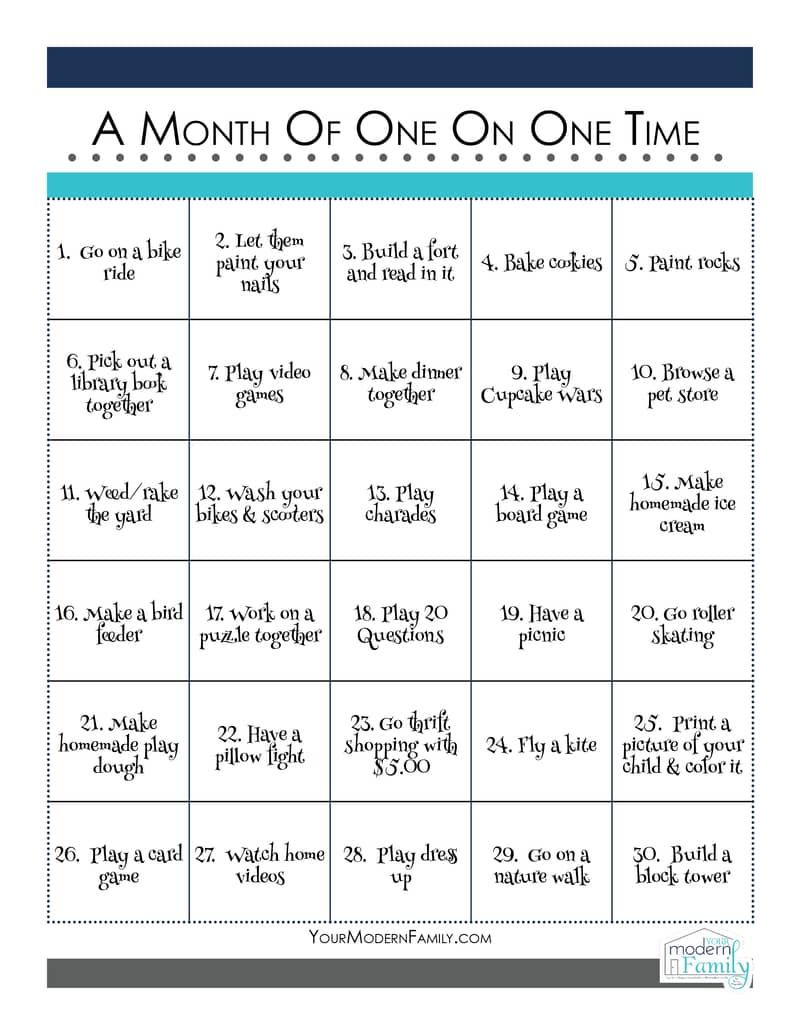 I'd love to send you 30 days of One-on-One time Ideas for you & your child!
Please enter your info below & I'll send it to your email inbox. 🙂