When we moved into our home, it did not have a mudroom and it really didn't have a place for one, either. We were using the coat closet by our garage door since we came in through the garage. There is a guest room near the back entrance, but I didn't want to convert a whole room into a mudroom, so we had to think outside of the box. Instead of a full mudroom, we'd have a mudroom bench.
DIY Mudroom Bench
It was my husband's idea to make a mudroom bench and it's been an amazing solution for our family. This bench is directly inside of our house when you walk in from the garage door. It's a spot that gets a lot of traffic and it's the "drop-off" zone after school for backpacks, coats, shoes, etc…
You can see the garage door beside our "Mud Room" area. We can just walk in and immediately put everything away.
How to make a mudroom bench:
First, a tip: Paint all of the wood before you get started, so you can bring it in and put it together, instead of trying to paint it once it's installed.
STEP ONE: My husband started by taking one sheet of plywood, cutting to size, and making the box frames for the bench (nailed together using a nail gun.)

STEP TWO: He bought the legs (already cut just how he wanted them) and he added those.
STEP THREE: He put the bench against the wall (with the legs on it) and then he put the bead-board right where he wanted it (right on top of the bench). Attach this with nails (nail gun)

STEP FOUR: He used the trim-pieces to frame the corners & the edges and used 1X3's to trim the rest of the bead-board.
STEP FIVE: Add a standard 8-inch wide board for the shelf. He bought the wooden shelf-brackets to support it.
Last touches: He sprayed a clear-coat on it to protect it. We added the hooks. Both were double-hooks to maximize the space.
My Mom found the baskets for me and I bought the vinyl letters for $3 (I still have so many leftovers).
I decided not to pad the bench because I didn't want to have to worry about cleaning the seat (since they have their shoes here), but you could easily pad it in no time.
You could do this anywhere. You could EASILY turn a coat closet into a mini-mud room by adding a bench and a few hooks and baskets (remember to utilize the side walls with some extra hooks or just nails to hang things on)
Things to Remember:
Decide where you want to have your spot by looking at coat closets, entry areas, etc…
Pick an area that is close to where you come in. If you come in the front door, add one there (We rarely come in our front door, so I just have a cute little coat-hook spot on the wall and a little wicker basket for shoes there). It is mostly for guests.
Remember that you can buy pre-made shelves or benches. (I know that Walmart has benches for $50 and Ikea has some great units like this, already put together).
Get a few baskets for shoes, some hooks for coats, and add a shelf for extras.
If you want to see the full index for the 40 days of the organization, see it here. You can pick where you want to go next (kitchen, bathroom, laundry room, outside….)
Or are you ready to move onto Day 7: storage in the living room. (Hiding toys!)
Do you want a whole book devoted just to de-cluttering and organizing? The book, Freed from Clutter, is 40 days of Organizing the Home.
Grab Our One-on-One Time Calendar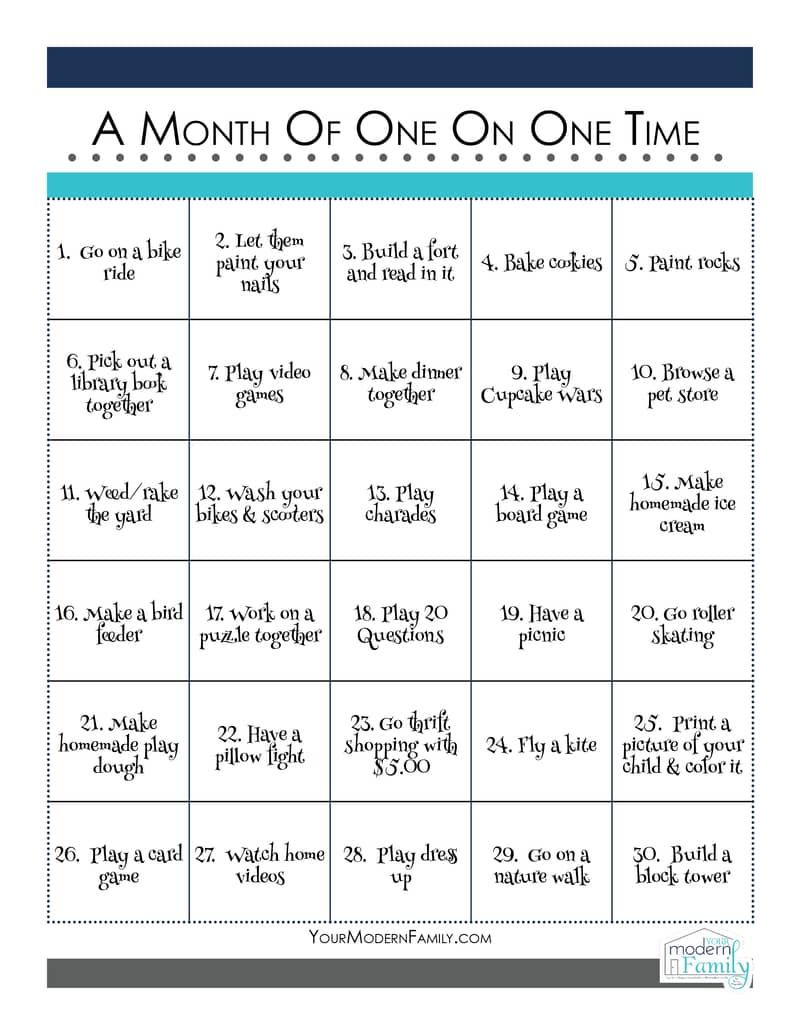 I'd love to send you 30 days of One-on-One time Ideas for you & your child!
Please enter your info below & I'll send it to your email inbox. 🙂