These 10 secrets of a happy mom are ones that I have realized over the years… with four young kids, I have come to understand that being a happy, stress-free parent boils down to how I perceive things. Today I am sharing these secrets with you…
Do your kids see that you ENJOY being their mom?
Do they see you SMILE when you are with them?
Do your kids see you LAUGHING & being stress-free?
If you read my post on the #1 that kids said that they want most from their parents, it will come as no surprise that being stress-free is the key to a parent's happiness, as well
I try to follow in the footsteps of my own mom. She is such a happy person because she loves her family. So much like my grandma. I have wanted to be a mother for as long as I can remember and although it can be stressful, there are so many ways to minimize that stress and maximize your happiness.

I've learned these tips through my own upbringing, my education, my teaching career, my therapy career, and my own experiences as a mother.
10 Ways to Lower Stress & Increase Joy
I USED to stress about SO MUCH, but these days, with four children, I just try to sit back & enjoy the ride! This is a really fun time for us and I want to soak up these memories right now, without stressing or causing our kids to have stress. I have narrowed it down to these 10 secrets of a happy mom…
1. RELAX
I have to say that although I feel busy a lot of our days, most of what we do is for fun. I do not like to put a lot of things on our plate, because I don't like to feel rushed and I don't like to pass that feeling of being rushed or stressed onto our kids.
For example, yelling at the kids to "hurry up" while getting ready for church in the morning is really sending the opposite message, isn't it?

What's the big deal if we have to go to the 10:30 service instead of 9:00? Is there really anything wrong with that? This goes for just about everything: when you feel stressed, say to yourself "Ok- what's the big deal if I ____? As long as you are taking care of your family, you don't really have to stress over much else.
Take it easy on yourself. If you are skipping something because you decided to play with your child… so be it! Let things go just a bit! Enjoy the moment that you are in right now!
2. SIMPLIFY YOUR SCHEDULE
We have four kids. I am sure that they will each want to do activities as they get older. Right now our rule is one sport (or activity) per season, per child. I plan to keep it this way. I can not have them in boy scouts, baseball, soccer, gymnastics… I would go crazy! The true point of being a Mom is to keep our kids healthy and by rushing them around everywhere, I would be placing stress on them because I would be stressed.
I would rather our kids be home, playing outside and having dinner as a family instead of being in many activities. I am finding that even one sport takes up several nights a week. Don't worry about "keeping up with the Jones'" to have your child in this activity or that activity, just because you think that you should.
Let them pick on things & do just that. Youth group? Great. Soccer? Great. Karate? Great. Just make sure that it works for your schedule. There is a soccer group here that plays on Sunday. That works great for us! Our weeks are free, which I love because the kids go to bed early (which is not the case, we are finding, with baseball)… which brings us to # 3.
3. TIME TO UNWIND
Find time in your day to have time to yourself. Sit on your porch for a few minutes or even just sit by a window and listen to the world outside.
For this reason, from the time that our first son was born, we had a consistent bedtime for our kids. Our younger kids went to bed at 7:00 for a very long time. Once they were older, we were able to move their bedtime back while still keeping it consistent. If they want to stay up later, the older kids read in their beds)
If you find yourself too exhausted in the evenings, try to spend time alone in the mornings. Read a book, watch the morning news, drink your coffee in silence, check your emails, message your friends online… however you enjoy time to yourself, take a few minutes each day for it.

PS- If your kids are waking too early, here is my post on teaching your kids to sleep later.
4. DON'T PUT SO MUCH PRESSURE ON YOURSELF
Sometimes I feel like we put so much pressure on ourselves and our kids to be perfect. So many people worry about having their kids in the best sports and at the best schools and I can't say that I don't stress about this, as well. The same thing goes with meals. Don't stress about having the perfect dinner.
If you make chicken nuggets for the third time this week, that's OK! As long as you are giving them some fruits and veggies to go with it, what does it matter? We all need a "pass" and some nights we just aren't feeling up to making a great meal. Our kids love it when they get a "free dinner" night (usually on baseball nights).
They get to pick whatever they want- even oatmeal and fruit or pizza & an apple. They are really so excited about this! I would say about once every week or two, we have a "free dinner" night and I have very happy kids!
Here is a simple recipe that takes a few minutes to prepare (in the crockpot) and it is a hit for our whole family.
5. EVERYONE HELPS
Getting your family to help with the chores is important! You can not do it all and if you are doing it all, you are not teaching your kids to be responsible. If they are not responsible kids… guess what? They won't be responsible as adults!
You are not here to make your kids happy. Yes, it is more work to enforce this now, but in the long run, it will be worth it! ("Hey kids, no TV until your chores are done. Love you!" I bet they will be done faster than you know!)
In our house, a messy house makes me feel a little anxious, which is not fun for anyone. I like to have things cleaned up, for the most part, so that we can get on with our day and enjoy it! If I have dirty dishes in the sink & clean dishes ready to be unloaded, it just weighs on my mind until I get it done.
Luckily, I have some great helpers! If you haven't read my series on decluttering or on organizing in 40 days, that is a great place to start. (See a list of age-appropriate chores here )
6. GET OUT
I love to get out, even if it's just taking a walk. Just put everything on hold & get out. Run to the library, go to a playground, sit and read outside while the kids play, get outside & kick the ball around with your kids. Playdates are great for this! Call up a friend & ask them to meet you and the kids to go on a walk in the neighborhood or at a walking trail. Sometimes, it's just nice to have a change of scenery.
According to Harvard Medical, "regular exercise can improve mood in people with mild to moderate depression. It also may play a supporting role in treating severe depression." Exercise = Happy Mom!
So get out there and play with your kids… play tag, take a walk, go for a hike, go on a bike ride- you can even take the kids along for a ride!
7. LISTEN TO YOUR BODY
It is important to take care of yourself, to learn how to relax, to stop stress from holding you back from doing what you love.
Take care of your body by eating the right foods, drinking enough water, and taking supplements that will help you.

Remember that your nutrition matters. Try adding supplements like Stressballs De-stress + Relax supplement gummies— herbal blends with Ashwagandha, which is a clinically proven stress-reliever. Ashwagandha is proven to reduce stress because it lowers cortisol (the stress hormone). Stressballs De-stress + Relax gummies give your body the herbal supplements that help you to relax, naturally.

When you get a hold of your stress and get it under control, your body learns how to turn that stressed life into your best life.
8. FOCUS ON THE POSITIVE
We ask our kids at dinner "Tell me one good thing that happened to you today." Or "Tell me your favorite part of the day." We never ask them about their worst part of their day, because we want them to focus on the positive. It makes you see things in a better light. I even use this reward system, to focus on the positive. It works WONDERFULLY in our home. I used it in my classroom, as well.
You, as a Mom, need to focus on the positive, too. I read once that you should keep a journal of good things. Make a list of three things every day that made you smile that day.
9. HAVE A ROUTINE
In my opinion, the routine is the key to any successful day! Our kids know just what to expect from our day and it makes things so much easier! I do not need to remind them to "come downstairs for breakfast" after they get dressed or to "get into bed" after our book at night.
These things are just natural.
Just as you would wake up, brush your teeth, and get dressed, the kids have come to learn their routines and do the same thing. They know what will be happening next. It makes life so much easier to be on a schedule, in my opinion, as long as you are OK to be flexible when you need to be!
10. HUGS & QUALITY TIME
If your kids aren't feeling well, there is nothing like a hug from Mom to make them feel better. (This was actually shown in a study.) HUGS ARE PROVEN TO HELP OUR KIDS… DO IT MORE OFTEN. Plus, it raises endorphins in both you & your child, so you both end up happier & less stressed. I learned these lessons from my mom… taking care of your kids is so important.
How many times have you hugged and kissed your kids today? Doesn't it make everyone happier? How many times have you told them that you love them? What about telling them that you are proud of them?
An example of a simple time to tell them that you are proud of them is when they do something nice… "I am proud of you for picking flowers for your Mom. That makes her happy."
Spend time with them, just listening and talking. Draw pictures together. Go on a walk & talk. Bake Cookies with them.

Say I love you… often. Everyone needs to hear that they are valued and loved. Make it a point to remind your kids every single day (and throughout the day).
Every day I will say something along the lines of… "Oh my goodness! Come here! I have something SO important to tell you!" To which they will say "I know, Mom… you love me."
When I ask "How did you know?" they say "Because you tell me every day."
Music to my ears… I just love them.

So there you have it… the secrets to being a happy mom. Remember these few quotes:
"Happiness is a choice – not a result. Nothing will make you happy until you choose to be happy. No person will make you happy unless you decide to be happy. Your happiness will not come to you. It can only come from you." – Ralph Marston
"Most folks are as happy as they make up their minds to be." – Abraham Lincoln
More Helpful Reads…
Grab Our One-on-One Time Calendar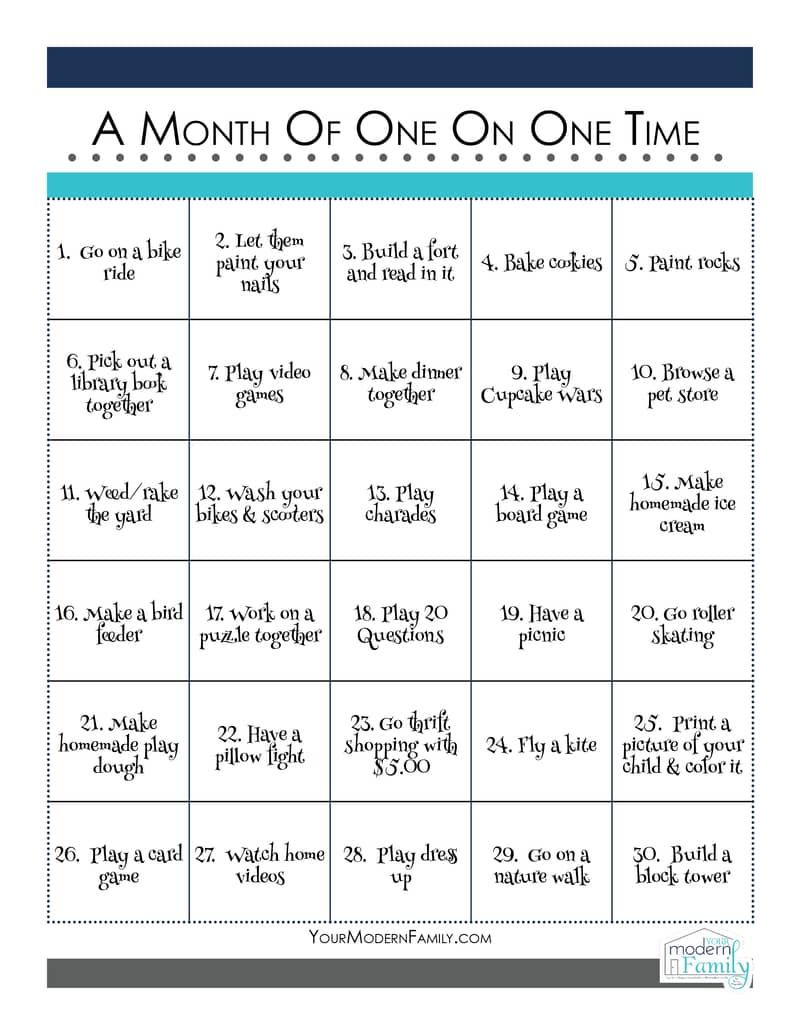 I'd love to send you 30 days of One-on-One time Ideas for you & your child!
Please enter your info below & I'll send it to your email inbox. 🙂