Sometimes being the mom you want to be comes down to saying yes, even when it is hard.  It's saying yes when all you really want to do is say no, but you can look beyond the reasons and give in anyway.
It was 50 degrees outside with not a stitch of sunlight as far as the eye could see…

It was warmer than it's been the past three months, no doubt.   But it certainly was not bathing suit weather… and it's certainly was not on my agenda for my kids to get in one that day.
But, spoiler alert….that's exactly what they did on that Saturday.  
On a breezy winter day, I was the mom who looked like she had lost her mind.  I helped my 4 and 6 year old find ill-fitting bathing suits from last summer, a bucket of water, water guns, and a hose.  
And I let them go at it for a brief (but fun) TEN minutes. And they loved every minute of it.  There were shrieks that could be heard down the block.
And I almost missed out on it.  On the pure joy of it. 
Because saying yes was inconvenient.
SOMETIMES "YES" IS SO INCONVENIENT
Isn't that how parenting is so often?  
We have so much to do, so many errands to run, so much homework to help with, so many appointments to make.
There is dinner to make and clothes to wash, and floors to vacuum.
We are trying so hard to check off our to-do lists we completely forget that to-do of having fun.
Of being a little reckless…of getting off a schedule…of saying yes when every bone in our body and cell in our brain is screaming No, No, for the love of all that is good just say No!
But we surprise our kids…and ourselves…and say yes.
IT'S SAYING YES…
It's saying yes when they ask to bike or walk around the block just one more time.
It's saying yes when they beg you to paint their fingernails even though you know it will all be picked off in approximately 23 minutes.
It's saying yes when they want to pull out play-doh…enough said.
It's saying yes to having your hair fixed in the "home beauty shop" when you know you need to start dinner.
It's saying yes to that extra round of Uno or Taco Cat Goat Cheese Pizza even though bedtime was 3o minutes ago.
It's saying yes to the most mundane requests that, in the grand scheme of things, you KNOW will have zero impact on today and the biggest impact on your kids in the long run.
So here's to throwing caution to the wind today.
Here's to letting your kids play in the rain. Here's to letting your kids ice the cookies and add sprinkles.
Here's to saying yes…even when it's inconvenient.
More Posts…
We think you'll like these…
Today's post was written by my dear friend, Hillary Cole…
Grab Our One-on-One Time Calendar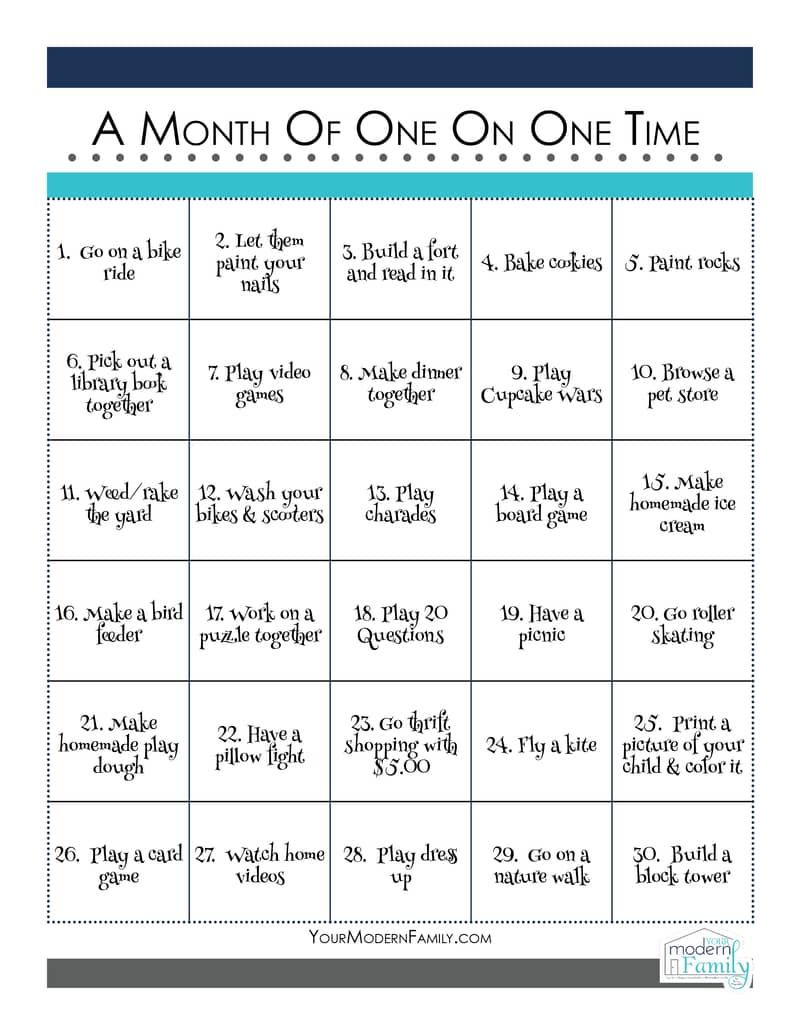 I'd love to send you 30 days of One-on-One time Ideas for you & your child!
Please enter your info below & I'll send it to your email inbox. 🙂