I wrote this post a few years ago and it still holds true today.
There are certain times when your kids need one on one time.  Most of you know that we do our one on one time every month for our special nights, but there are other times when I will turn to Mickey and say, "Ok… he needs some time with just one of us."
We grab a card from our ONE-ON-ONE TIME CARDS when this happens, but… What signs do you need to watch for to know that they need that time?
We can see it in the way that they act, in the way that they talk and in the way that they carry themselves.
Five Signs That Show Your Child Needs More One on One Time
First thing in the morning. 
When they are moving too slowly in the morning, sometimes they just need some time with you…. to help get them moving.  It gives them a great chance to connect with you in the morning and give them a great start for the day.
When something stressful is coming up.
Our son, Ethan, is a worrier.  If you put him into a crowd or throw a curveball at him in the day (figuratively, of course), he just doesn't go with the flow as much as our other kids.

We've learned to prepare for these moments ahead of time and it makes a big difference.

If we are going out to dinner or going to a toy store… if we are going to an amusement park or having company over, this is the perfect time for 20 minutes away to play.  It gives him time just to himself and seems to balance what is to come.  Plus, we need to remember to LOOK IN HIS EYES to help him know that we are really giving him our attention.
When they come home.
My mom always said that her goal was to be home when we came home from school because we talked the most then.
I always want to be the one to pick them up from school, camp, lessons, or whatever it may be for this same reason.

When we get home, we usually head out onto our back porch & they have a snack while we chat about what they did that day.

Homework time!
Oh boy…  It's funny that some kids don't mind homework and others just really dislike it!  Beau could care less about homework unless it is a project that requires building or constructing or inventing. :)So, we do it together.

We sit here at our homework station (you can build this Homework Station so easily!) and work through his homework. I sit in one chair while he sits in another.
I usually work on what I have to do (maybe a menu plan or shopping list) while he does his homework.  I'm here to help him and he knows it.

When they misbehave.  
My friend once told me that her child would misbehave when she didn't have enough one on one time. I know that it sounds like the opposite message to say "If you misbehave, you get more time with me.

"If they are misbehaving, they are just saying "I NEED you more"  and giving them more one on one time can quickly solve this issue. It fills their 'love tank' back up so that they don't misbehave.
They don't need to.  Their 'love tank' usually stays full for quite some time, so when you start to see them acting up again… you know it's time for a refill.Remember – it only takes 10-20 minutes of one-on-one time for your child to feel better.


I love spending one on one time with our kids… it is when you really get a chance to bond, to just sit and talk.  You spend time together and just enjoy being together.

I love to hang our 30-days of one-on-one time activities calendar on our refrigerator to use with our kids. 

It's important to them… and it's important to me. Remember… it doesn't have to be this amazing adventure – simple times matter just as much.
Have a wonderful day & soak up the memories. 🙂 




More posts you might like:
Grab Our One-on-One Time Calendar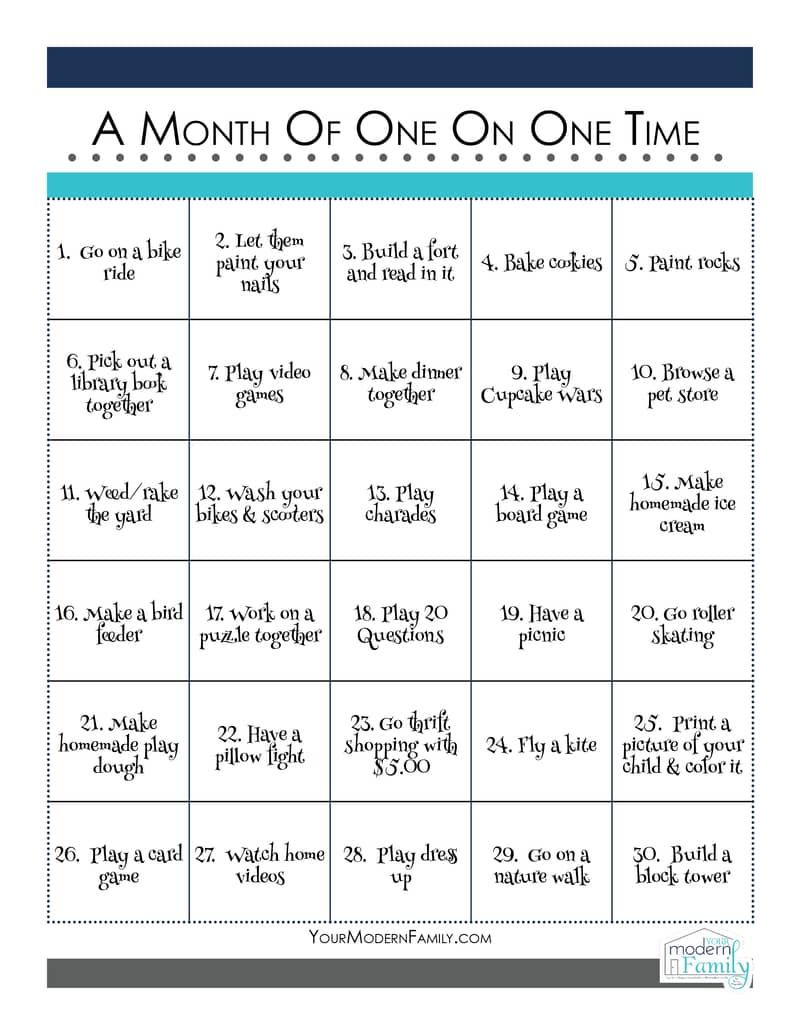 I'd love to send you 30 days of One-on-One time Ideas for you & your child!
Please enter your info below & I'll send it to your email inbox. 🙂