This is a sponsored post written by me on behalf of Wendy's for IZEA. All opinions are 100% mine.

I want to give you a WONDERFUL alternative to Trick or Treat candy. Yes, candy is fun. You could go with tattoos, or fun toys or even pencils. Those are perfect. This year, I want to encourage you to do something that not only the KIDS will love, but kids you don't even know will benefit from, as well. Buy these little "free Jr.  Frosty" coupons. You will get 5-10 coupons for $1.00* and 85 cents of that will go to  help the 
Dave Thomas Foundation for Adoption
.**
Today I had the most amazing privilege of sitting with a woman for lunch who has the heart of a million people.  I had lunch with Wendy, the daughter of the late Dave Thomas of Wendy's. We sat to talk about the extremely large and under-communciated issue of adoption.
Let me start by saying that I was pleasantly surprised by Wendy.  She was the most down-to-earth, genuine woman and I was honored to sit with her while I ate my Jr. Bacon Cheeseburger and fries (always my favorite).  🙂
Now let me tell you about what she is doing that is even more amazing… Please take 56 seconds to watch this Wendy's DTFA Video Stories
Let me tell you just a little bit about what Wendy's Wonderful Kids does for the children and families in the US. Did you know that over 20,000 children age out of adoption every year?  Just try to wrap your brain around that for a moment. 20,000 children are too old to be adopted every year. 20,000 children grow "too old" for parents. 20,000 children will never bring home their report cards to their parents. 20,000 children will never be tucked into bed at night. 20,000 children will never wake up to the smell of mom making muffins or dad making pancakes. 20,000 children will never have their parents waiting on the other end of a phone, asking how their day went.
While we were there, they told us that story about a young boy, well… a teenager, who had been adopted by his new family. He was going out one night and his new dad said to him "Have fun.  I'll wait up for you." to which the boy teared up, hugged his new dad and said "I've never had anyone say that to me before." To think that he was OVERJOYED at the thought of having someone care enough about him to wait up for him.
They told us another story that just broke my heart.  A boy who had aged out of adoption (became too old to become adopted) was applying for colleges and he kept leaving the 'emergency contact' blank. Finally, he filled it in with 911. When asked why, he answered, simply, that they were the only people that would help, as he had NO family to call for an emergency situation. Can you even imagine? I certainly cannot. It breaks my heart.
This next story can be summed up with a picture, drawn by Richard, sharing his first moments as a child with PARENTS.

Right now there are 107,000 children waiting to be adopted. Just waiting for a parent to love them. That is where Wendy's Wonderful Kids comes into play. They have helped more than 5,000 children to be adopted into loving families. Think about each one of those kids. Each one of those children now has a mom to kiss them good morning and a dad to kiss them goodnight.  Each one of those children now has someone to pack their lunch and give them an umbrella when it rains.   Each of those children will now be loved.
Did you know, that thanks to Wendy's Wonderful Kids, a child is adopted every 12 hours?  HOW AMAZING!
Not only is it a emotionally wonderful gain for families doing the adopting and children being adopted, but the state benefits financially from adoptions. It costs roughly $30,000-$35,000 to keep a child in foster care, each year. The cost to adopt through Wendy's Wonderful Kids is $14,000. That is a pretty significant difference.
Most of you know that I work as a play therapist and I see foster children on a regular basis. I know how hard it is on these children.  Many families are looking for babies, without siblings, but that just doesn't cover the children that need families. Thankfully, Wendy's Wonderful Kids has helped this.  Of the children adopted, 43% of children are adopted with siblings.   ADOPTED WITH THEIR SIBLINGS! I love that!
There are over 211 recruiters across America, looking to help these 107,000 children find families. They are working with 12-15 children at a time (unlike the normal caseload of 40+), so they are able to focus more on what each child needs.
I wanted to share this with you, because Wendy told us about an amazing opportunity.   For November's adoption awareness month, she will be hosting a community night, on November 10th (at participating Wendy's). On the 10th, they will be giving back 20% of all proceeds to Wendy's Wonderful Kids.  Oh!  And to top that, did you know that those adorable coupon books that you buy (the ones that are 5 – 10 Frosty coupons for $1.00 total)*?  Well, 85 cents of that $1.00 goes to Wendy's Wonderful Kids.**
Ps- off topic, but these make WONDERFUL Halloween treats!  Last year we gave out coupons for Frosty's instead of candy and every single parent that saw it loved it, plus it is helping a good cause. It really is the perfect treat.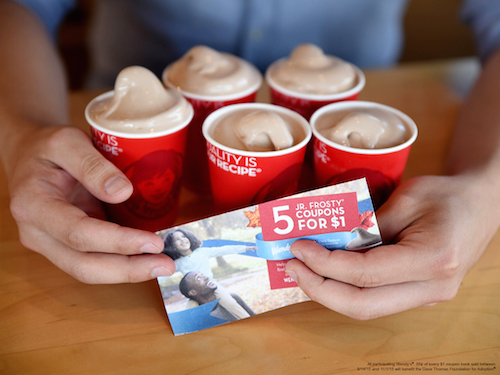 * Number of coupons per book vary based on location
** $0.85 cents of every dollar from the Halloween Coupon Books will go to support the Dave Thomas Foundation for Adoption.
Thank you for caring!
Becky

Ps- I'd love to donate one Jr. Frosty Coupon book!   You can win by leaving a comment telling me your favorite thing to eat at Wendy's!