I remember a few years back, when we were snowed in … in the Carolinas (a rare occasion!!). So… while I sat inside all cuddled up in my warm blanket with my hot chocolate, I sent Mickey out to build an igloo with the kids. Not to worry- I watched from the window & took pictures. I'm happy to bring the snow inside to play, but after 20 years in Pennsylvania, I'm done with being cold! haha!
Well, I put the picture of their finished igloo on Facebook for my friends & family and a lot of them asked how to build one, so I asked my husband, Mickey, to explain it so I could share it. If you ever wanted to know how to build an igloo out of snow … today you'll learn. 🙂
The kids LOVED building an igloo with Mickey and played in it for days!
It was so much fun and our three boys really enjoyed playing in the snow (or should I say "our four boys really enjoyed playing in the snow", since Mickey had as much fun as our kids did.) Allie went out for a little bit… but preferred to play 'family' inside with me. 🙂
When we heard that it was going to snow, we turned our weather forecast into a science and social studies lesson. Before they went out to build, I took an hour and taught the kids about igloos (I was a teacher, so I had some ideas already in mind).
We read about how they are built, why they are used, and where you can find them. Of course, this sparked their interest in igloos and they wanted to build an igloo with their dad! So… they did!
HOW TO MAKE AN IGLOO OUT OF SNOW

Before you begin, you'll want to test the snow. The bricks that you make will need to be hard-packed snow without soft snow mixed in. You should also be sure that you have enough. I would check that the snow is at least one to two feet deep.
Now, while traditional igloo blocks are 3 feet long, 15 inches high, and about 8 inches thick, we made much smaller blocks because we had a smaller igloo.
Directions to build an igloo out of the snow:
Make blocks of snow. You will need to pack the snow into blocks.
Move the blocks into a circle (this will be your base) on the ground.
Be sure that you LEAVE ROOM FOR YOUR DOOR!
You need to make your igloo at least 8 inches- 12 inches thick. If you need thicker bricks or more than one row of bricks, you can do it now.
Start stacking it high & use snow to act like cement to pack it in.
When you get to the top of the igloo door, you need to use something to support more snow on top. My husband used a skateboard.
You can also add a window halfway up. These are great air holes, too. You can leave bricks out of your igloo to create windows, or you can cut blocks in half and make a small window this way.
Tip: Don't make the window too big or it will be cold inside! Try to keep it a small hole or window, so that your snow shelter igloo can still keep the body heat in and keep the cold air out.
More Directions for your full-size igloo:
Pack more snow on top of the wood or skateboard that is above your door. This will begin to support the roof.
As you get to the top, start slanting it towards the center, gently & slowly. This is going to make your snow cave look like the perfect dome. You are going to be forming a snow mound, carefully.
When you get to the top you can either use a circle sled or something and then put snow on top of this roof. This is why it's important to make your walls thick with layers of snow. They will be supporting the roof.
Next, we went inside & packed snow on this to fill in the gaps (again, acting like cement). Do this on the outside, too. Add enough snow to create a dome look.
Supervise your kids when playing in it!
Don't let them play in it without you because when the snow starts to melt, this could fall apart (just wait until the snow does start to melt because this is when the REAL fun comes in and the kids get to knock it down.)
The whole process of building an igloo was fun. They loved building the igloo out of snow, playing it the igloo and the snow, eating snacks in their igloo… and then knocking it down when it started to melt (to avoid anyone getting hurt in it.)
MORE SNOW ACTIVITIES FOR KIDS!
Grab Our One-on-One Time Calendar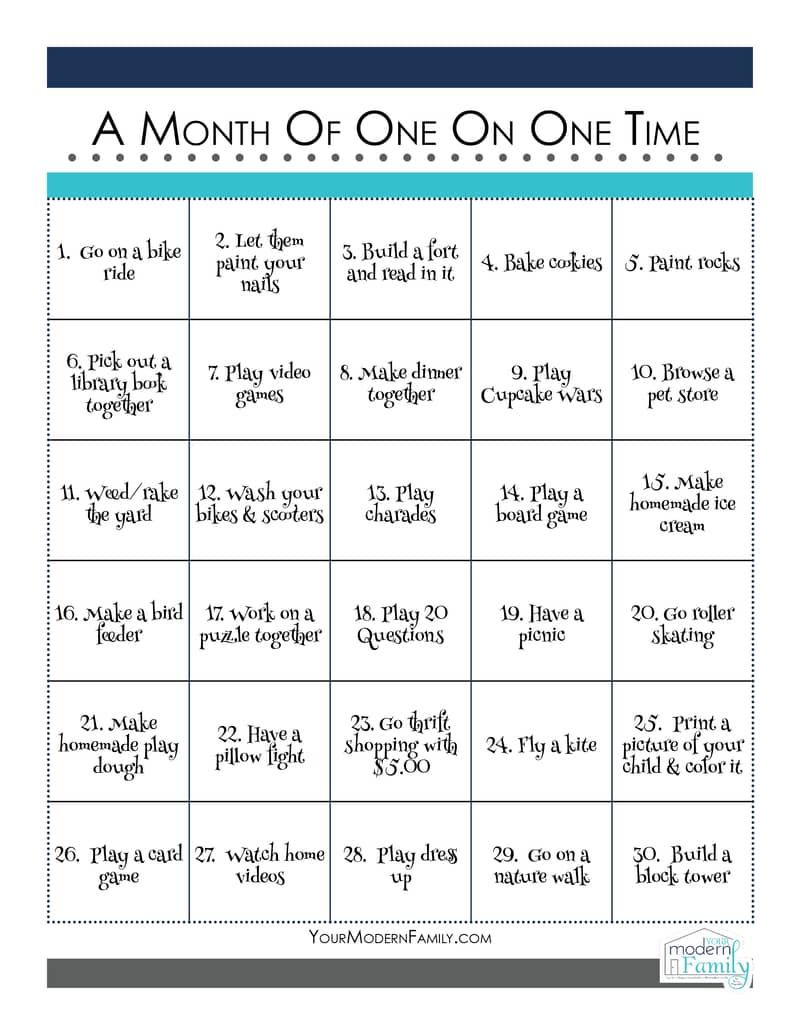 I'd love to send you 30 days of One-on-One time Ideas for you & your child!
Please enter your info below & I'll send it to your email inbox. 🙂