This post may contain affiliate links to products that I have in my home.
If you have a fireproof box and you ever wonder 'what should I keep inside of my fire safe box ?'… these items will help you to determine just that.

The other day, I went to my brother and sister-in-law's house for a little visit… we mostly stopped by to see my niece, Lia, and my nephew, Dylan.  Our kids love to get together with them:

Anyway, while we were there, my brother showed me where they keep their firesafe box, as well as the key.  He was showing me the things that they keep in their box and when we left, I went home to add a few things to mine.   We only recently bought this one last year.  I used to see them at the store, but they were always a little more money than I wanted to spend, so I kept putting it off.  I finally decided that I better just buy one- "Better safe than sorry", right?
Here are some important things to keep in your box:
1).  Your will and/or power of attorney… and the lawyer's information.   You will want to keep the lawyer's info with the will so that they will know just who to call if they need it. .
2).  Original birth certificates
3). Social Security Cards
4). Property Insurance info (and again, the number of your insurance company).
5). Medical information: Doctor's numbers, prescriptions, etc..
6). Passports
7). Cash – in case of emergency
8). Titles to your vehicles and one spare key for each car and a key and deed for your house.
9). Marriage Certificate
10).  We haven't done this yet, but you need to make  a DVD of the items in your home.  I have heard horror stories of people that have had to try to remember everything that was in their house with the price of all of it!  This would make things so much easier!
Bonus~ You don't need to do this, but I also have a family picture in our fire safe box.  You could even keep a flash drive of your pictures. 
Keep your fire safe box in a place that your family can find it.  Keep the key near it or let them have a copy of the key.
MORE POSTS YOU MIGHT LIKE:

Grab Our One-on-One Time Calendar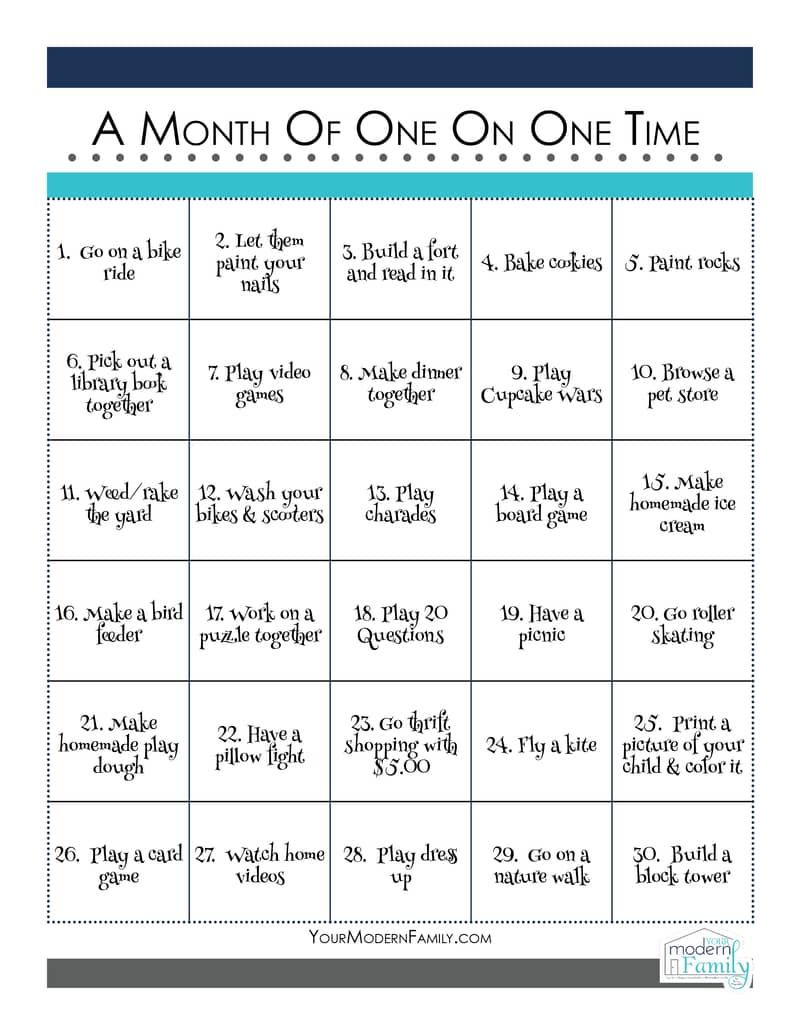 I'd love to send you 30 days of One-on-One time Ideas for you & your child!
Please enter your info below & I'll send it to your email inbox. 🙂