Today, my dear friend, Kristen Welch is sharing her story here. She is sharing an excerpt from her book, Made to Move Mountains. If you aren't familiar with Kristen, she is the blogger & founder of the blog, We Are That Family. She's an amazing writer & person.
Kristen and her family (pictured below) founded a non-profit, in 2010, called Mercy House. The organization funds maternity homes in Kenya, created to aid pregnant girls living in extreme poverty.
It's always an honor to invite Kristen to write on our blog & today is no different. She always shares such wonderful words of inspiration and I'm honored to share her words with the world. Today she reminds us that no matter how big or small the worry is in your life, the thing that you keep thinking about, the thing that you are dealing with… it's ok to have these moments.
Take it away, Kristen…♥
"I don't know what you're facing today…
I don't know what you're facing today, right now, this very moment, as you read these words. I don't know what mountain is around the bend in your life.
But I do know that life is full of ups and downs.
I want you to know that you have permission to feel loss, sadness, disappointment, and grief in your situation.
This is the first step in taking the right next step.
We live in a fix-it culture that's consumed with a microwave, drive-thru mentality.
But speeding up the process of grief doesn't help us get over our pain any sooner. Instead, it delays it.
You will eventually grieve, and it might hit you when you least expect it. The opposite of grief isn't happiness. You have permission to be sad, to experience sorrow, if you need it.
As Tim Keller says, "Secular culture says the meaning of life is to gain happiness. If that's true then suffering destroys meaning." But God allows suffering in our lives so that we will know joy despite our circumstances.
It's okay to walk through a season of not being okay.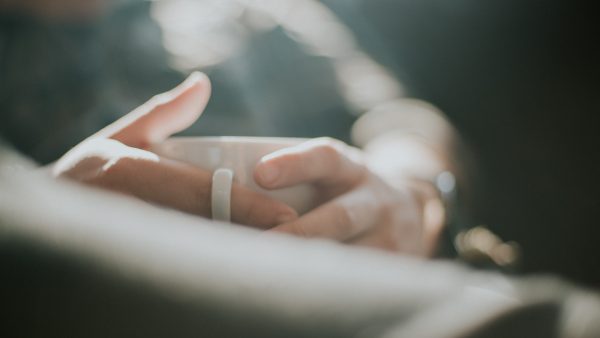 I knew I wasn't alone. A dear friend and I tried to reschedule getting together for three months due to sickness, sadness, or both, and we were overdue for a good visit. But the more I tried, the more she hesitated, and I could tell she wasn't okay.
When we finally met up, I knew she was having more than a bad day; she was having a sad season.
She didn't say much, and I got only an occasional head nod or shrug. So I did what I should have done in the first place: I hugged her and whispered in her ear, "It's okay to not be okay."
She sighed in relief. Permission to not be okay is sometimes exactly what we need. She wiped away a single tear and whispered, "Thank you."
When I left, I felt I hadn't done much, but it was enough.
Today, you might not be okay.
You might be looking at a scary diagnosis, experiencing a financial disaster, or struggling with a wayward child.
You might be facing a mountain of sadness or impossibility. You might be walking through a valley of despair. You might not even know why you aren't okay. At these moments, we do everything we can think of to resolve the struggle in our souls.
And life sort of feels like quicksand—the harder we struggle, the deeper we sink. The days are dark and lonely, and our souls are crushed by the heaviness of despair. On these days, sometimes I see how easy my life appears in the eyes of those who live such difficult ones, and I push away my pain out of guilt..
But one thing can refresh and renew and save our souls, and that is the Word of God. Yet often it's the last place we turn. It seems crazy to think a book with words can be the answer, but God's Word is alive, and it cuts to the broken places and heals what we cannot.
Our situation or struggle may not dissolve overnight, but we can find solace and comfort in the words he's given us.
-Excerpt from Made to Move Mountains: How God Uses Our Dreams and Disasters to Accomplish the Impossible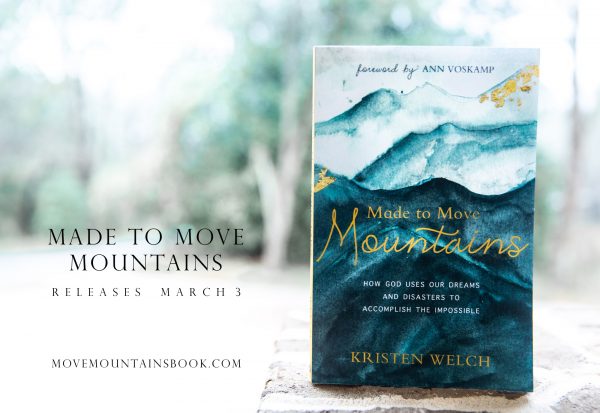 Kristen Welch, blogger at We are THAT family, is a bestselling author and founder of Mercy House Global. Made to Move Mountains releases March 3, 2020
Excerpted from Made to Move Mountains by Kristen Welch. Baker Books, a division of Baker Publishing Group. Copyright 2020. Used with permission. www.BakerPublishingGroup.com).