I want to share these ways to reduce fever in your baby because I know how scary it is to feel like you don't know how to help.  When our kids aren't feeling well, we want to do everything we can to make them feel better.
We have four kids, and I think it is safe to say that one of them has a stuffy nose at all times, not to mention fevers, strep throat, ear infections or the flu! (Yes, we have had all of those this year).
When I feel that they may have a fever, I take their temperature.   This is usually followed by a call to my mom, a nurse, to ask:  "Do I need to call the pediatrician?"  (LOL- the beauty of having a nurse in the family!)

Do I need to call a doctor about our baby's fever?
If you meet the following criteria… YOU NEED TO CALL A DOCTOR:
If your child is younger than three months.
If your baby is 3 to 5 months old and has a temperature of 101 degrees or higher.
If your baby is 6 months old and has a temperature of 102 or higher.
If the fever is accompanied by other symptoms, like trouble breathing, discoloration of the skin (purple/blue), or has had a fever for several days in a row.
If I don't fall into one of those categories, I usually try to handle it at home.  As soon as I feel our kids starting to heat up, I grab my thermometer.  I used to just take a guess, but my mom is a nurse and she always reminds me that the doctor will ask for the exact number… so I try to take their temperature as soon as I'm concerned.
How Do I Get an Accurate Reading?
If your baby or toddler is young, check their temperature using a rectal thermometer.  I know – no one likes this, but your doctor will be grateful that you have the most accurate reading.
What can I do to reduce a baby's fever?
When your child is too young to take oral liquid medication (or if they won't take it), it is important to have some alternatives.
NOTE: I am certainly not a doctor, so be sure to check with your doctor if your child has a fever.
 5 Ways to Reduce a Fever
1-Use FeverAll Suppository if your baby is over 6 months old 
If your baby will not take oral medication (I've had my fair share of our babies spitting it right back out), a suppository will work.  Acetaminophen is one of the most recommended nonprescription medications by healthcare professionals.
2- A luke-warm bath is helpful.
The water will evaporate from her skin and cool her don (bringing her temperature down). Do not use cold water, because you do not want them to get a chill or shiver (this causes their temperature to rise).  Do not use hot water, either.   Make it "just right".  As the lukewarm water begins to evaporate from your baby's skin, it will cool her body & lower her temperature.
3. Offer frozen treats and extra fluids.
You are cooling the body from the inside out.   Our kids love popsicles when they are sick.  Ice cream is great, too.  Even yogurt is a good solution if your baby will eat it.   I like to give our kids these frozen greek yogurt pops that I make.
4. I know that your child will be cold, but don't overdress them in warm clothing.
Keep them in normal clothes for that season. I would offer LOTS of snuggles to keep them warm.
You may also want to use a fan.  Do not blow it directly onto your child, but keep it in the room to avoid the room getting stuffy or hot.  You do not want your child to be hot or cold.
5. Give your child lots of  hugs
Hug them, hold them, snuggle them. When our firstborn son was only an infant, I read that a mother's touch has a similar effect as medication. So just rock your baby, sing to your baby, rub your baby's head. Do all of the things that come so naturally to us.    Babies don't keep, so just try to be there for your baby while you can…
MORE POSTS THAT YOU MIGHT LIKE:
(Click on the image to read the post)
Grab Our One-on-One Time Calendar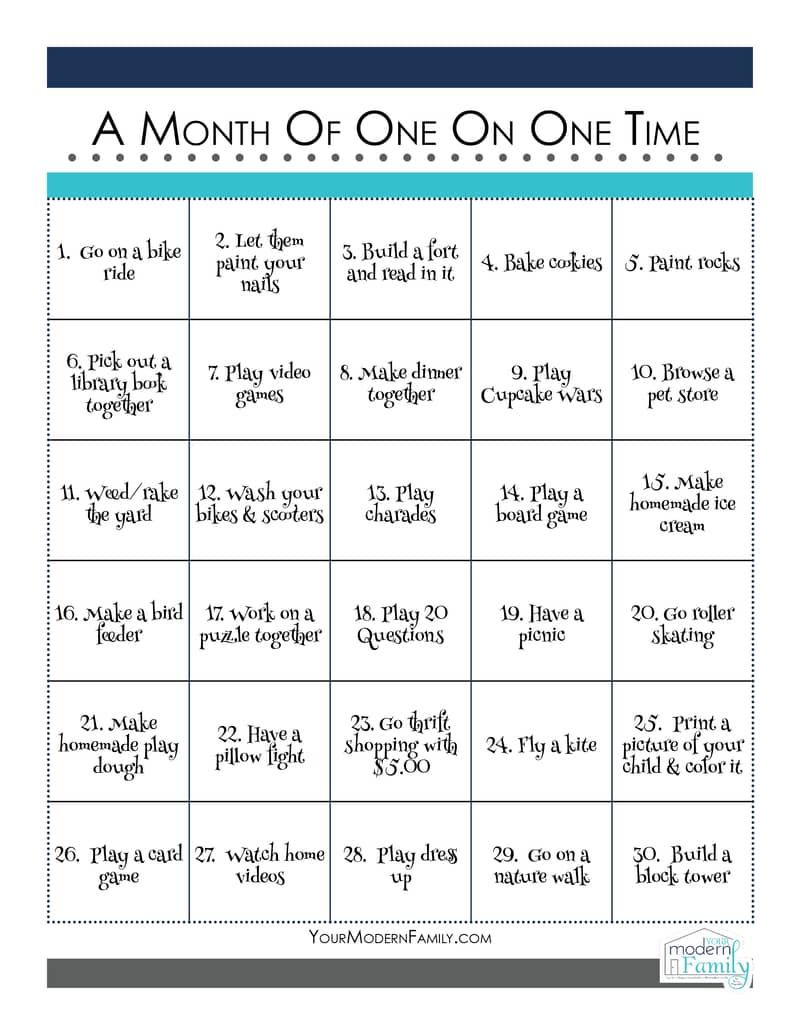 I'd love to send you 30 days of One-on-One time Ideas for you & your child!
Please enter your info below & I'll send it to your email inbox. 🙂