Picture this:  You are living paycheck to paycheck and you find out that you have to pay $2,000 for a water bill for your neighborhood (true story).   Luckily, you have this in savings and can take care of it today.   If you didn't have it in savings, you would have to get a loan (not a good situation to be in if you have $0 savings, because you will increase your debt).


I think that it is very important to have at least $1,000 in your savings, but $10,000 is better.  It is best to have 6 months of living expenses in your savings account.   You never know when you will need the extra cash.  Today, I am partnering with Upromise® by Sallie Mae® to bring you 5 tips to save more money and Ace your Savings.

What if that fun bike-ride turned into a broken leg?   Would you have the savings to take care of it?  It isn't fun to think about, but it is realistic.  One month we spent $4,500 in medical expenses and we had not been expecting it, but it can happen.
Upromise helps you Ace your savings by Finding ways to save more:
Here are 5 tips to build up your savings:
1- Do Without.
If you really want to save more money, but you think that it might be a struggle, you need to decide first and foremost if you are ready to give up certain things.  Are you ready to give up shopping every day, eating out several times a week, getting pedicures every other week, etc…?   You may not have to, but we have four children, so these things are placed on the back burner for right now.
2- Find it for Free.
Can you find fun ways to keep yourself entertained that doesn't cost a lot of money?  Mickey and I have talked about how we will not teach our kids that money=happiness.  I want them to know that money is a necessity, but it is not happiness.  We need money to live, to have a home, to have food, but we do not need it to play, to entertain ourselves, to find joy.  We can do that all on our own!
Buy what you need, not what you want.
You NEED food, but you WANT ice cream.

You need to drink, but you WANT pop/soda.

You NEED to wear clothes, but you WANT to buy the latest styles.

You NEED to have fun, but you WANT to go to the movies.

You NEED to feed your kids, but you WANT to run out and pick up a quick (already-cooked) meal.
I read a story about a woman that only bought what they needed for 40 days… Her family actually used the money from that 40 days to go on a vacation (that's how much they saved!)  It pays off (literally).
This is hard.  It is all a matter of priorities.  I tried to do it for lent one year, but I kept catching myself buying things that I didn't need.   I failed, but I won't give up.  I'll try it again, because it made me realize how much I rely on the things that make my life EASIER (like picking up sandwiches for the kids when we are late coming home from football practice, instead of making them at home).

4- Use cash at the store & save the change.
This tip, taken from my Mom, is to use cash and every time that you get change back, put it into a jar.   So, if you spend $1.20 and you get 80 cents back, bring that 80 cents home and put it into your 'Piggy Bank'.  Don't touch it for several months.
When you are ready, take it to your bank, if it offers a machine (for free) that will count your money (our credit union has one) and then deposit that money into your saving account.   One time, my mom saved so much that she & my dad took our family on a vacation with the money that she saved in her jar over a year.
5- Find a better way to earn cash.
Upromise (easy to use & free to join & is a smart way to earn cash.  When you shop online, book your travel, go out to eat, etc…, you can save money towards your future: Colleges, retirement, weddings, starting a family, student loans & more.   Upromise introduced the Upromise MasterCard , as a way to earn cash back rewards with Upromise on everyday purchases.
Example:
5% Cash back: Online shopping and travel through Upromise.com, participating Upromise restaurants
2% Cash back: Department stores, movie theaters
1% Cash back: On all other card purchases
Earn up to 10% cash back for college: Up to 5% when you make eligible purchases through Upromise.com, PLUS 5% when you pay for those purchases with the Upromise MasterCard, with no limit to the amount you can earn.

My brother puts bills on our credit card and he pays them off ASAP, so he is earning cash back and not paying anything extra.  A win-win.

Also, think about selling things that you don't use (toys, perhaps?)  – make the money and then put this money away. I have a post about 20 ways to make money from home that might be helpful.
Please note that I was compensated by Upromise for the content in this post.  However, all opinions expressed below are my own, based on my personal experience with Upromise.
Grab Our One-on-One Time Calendar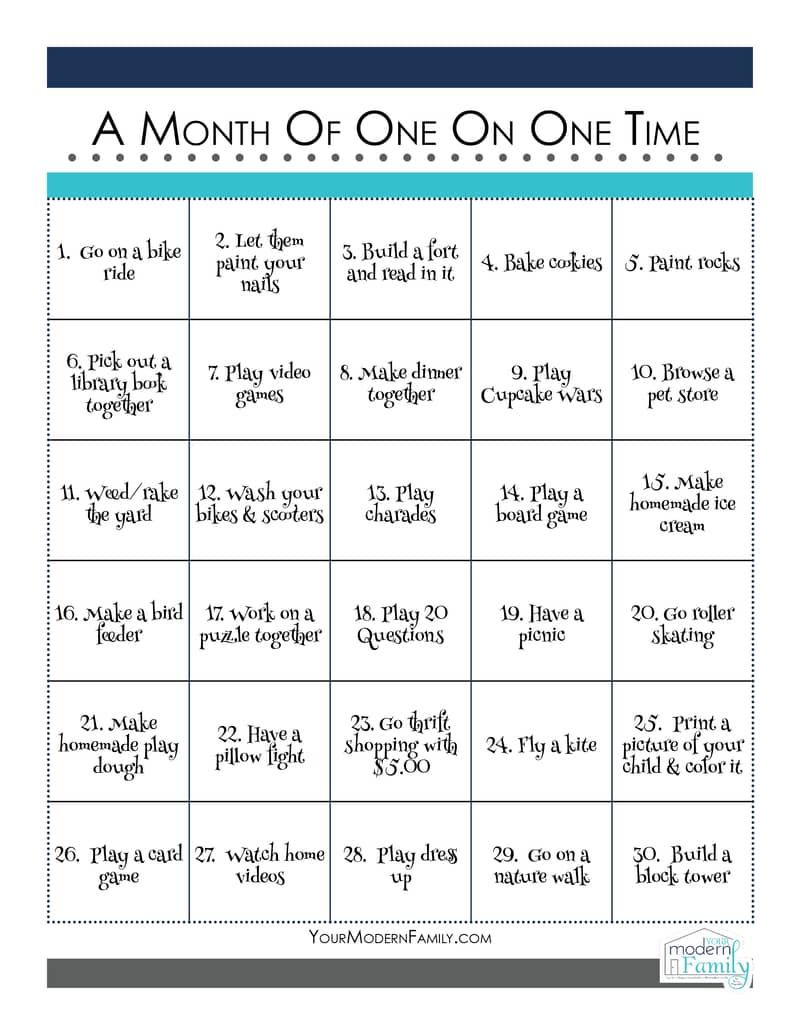 I'd love to send you 30 days of One-on-One time Ideas for you & your child!
Please enter your info below & I'll send it to your email inbox. 🙂