This is a Sponsored post written by me on behalf of Vipre. All opinions are 100% mine.
Keeping kids safe online is harder than it was when we were young.  I was at a conference recently and the speaker touched on this subject.  I wanted to share some of the items with you!    Our children are being targeted daily!
Here are 5 tips to keep your kids safe online:
1).  Keep the computers in an open area.  Do not allow it in their bedroom.  Do not allow it in a room with the door closed.
2). Check the history daily – if it has been deleted, they are hiding something. 
3).  Get a program that monitors what they are doing and has parental controls on it, such as Safe Eyes.  It will alert you of what they are doing and it works on all of your products (iphone, ipad, laptop) and relays back to you about all of them.
4).  They must keep the computer and phone chargers in YOUR room.  They charge them overnight, right?  Do you want that done in your room or their room?  Most of the texting happens at night- you don't want them up all night texting in their room.   I would set a time that phones go to your room to be charged.    You should also be checking their texts and computer (with their knowledge- you are not being sneaky, you are telling them that you WILL check it every night).
5).  Install a virus protection program.   I have VIPRE Internet Security.   I picked this one because it is so simple to download and to install.    Keeping your computer free of virus' using VIPRE Internet Security is important.   Vipre Antivirus keeps your personal and financial information safe from identily theft, cybercrime & hackers.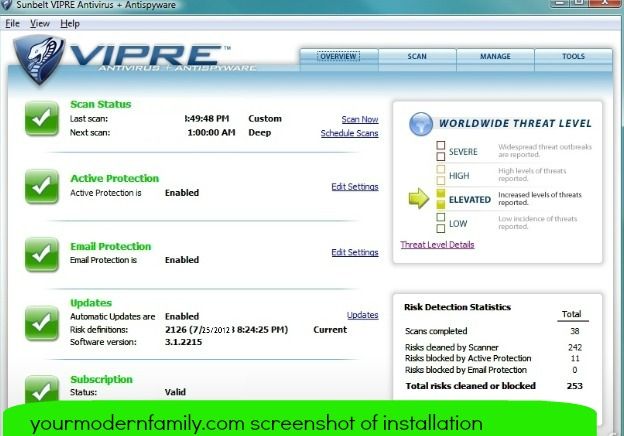 Keep your children safe online!  Remember you are not "SPYING" on them- you are letting them know that you are going to be checking their online accounts, following their virtual footprint and seeing what they do every day.  Its not "if" you will check their computer, its "When".  Keep them safe with these 5 rules and with VIPRE Internet Security.
Get my free book & tips!
The following two tabs change content below.
Hi! I'm Becky Mansfield ~ founder of Your Modern Family. I am the wife to Mickey & the mom to four little blessings! I am a teacher turned play therapist and stay at home Mom. I love to share my organization tips, kid ideas, money-saving tips and recipes with you.
Latest posts by Becky (Your Modern Family) (see all)